If you buy something using links on this page, we may earn a commission, at no extra cost to you. This helps support our research. Please consider subscribing to poweradvice.org
Lately, dual fuel generators have been gaining a lot of popularity because of their versatility. The advanced fuel system incorporated in these machines is the core of their great flexibility when it comes to delivering emergency power as it enables them to run on both propane and gasoline.
Put differently, when one of the two fuel sources becomes unavailable in an emergency, you can still run your generator with the alternate fuel. Dual fuel generators are also pretty economical to run and operate, which will help lower your electricity outlay, and they tend to have relatively low gas emissions.
With that being said, we'll be looking at some of the best dual fuel generators on the market and discuss their features in full detail. But before that, we need to comprehend exactly what makes a good dual fuel generator so that you can pinpoint the perfect product and get the best bang for your buck.
Portable Dual Fuel Generator Inverter Considerations
Before heading out to buy a dual fuel generator, there are a few factors that should be taken into consideration to ensure getting the product that suits your needs the most.
Power Consumption
Generators, in general, are sold based on their power output, measured in watts. Obviously, the more power a generator can deliver, the more expensive it becomes. The last thing you want to do is pay a pretty penny for a dual fuel generator – which will likely have a steeper price tag than a traditional generator – that delivers much more power than what you'd usually require.
To ensure buying a generator that will provide sufficient power for your appliances, grab a piece of paper and start writing down a list of all the appliances that you don't want to go without when the power goes out. Now that you have your list down, start adding up the watts to estimate the right ballpark.
Generator Type
There are mainly two categories of generators that you can pick from: home standby generators and portable generators. Home standby units, as the name suggests, are installed permanently, and run on propane or natural gas. These generators are activated automatically during a power outage.
Portable generators are classified into two different categories as well: portable power stations and inverter generators. These generators come in different sizes and are easily moved around. Some are designed to be taken places, while others are to serve as a backup power source on your property.
Generator Size
The size of a generator is usually indicative of three things: the quality, the amount of power it will generate, and how much room space it requires. This makes picking the right size little bit tricky.
On one hand, you'd want a generator that's powerful enough to supply your property, but on the other hand, you don't want it to be too bulky that it takes a lot of your room space. Sadly, there's no evading this, you need to compromise on some room space to house a reliable generator.
Noise Level
Power generators are usually very noisy, especially the ones that run on gasoline. Since we're talking about generators that run on two types of fuel, it means that the noise level can vary or can even be controlled in some cases.
The best way to avoid the noise produced by generators is to place them as far away from your house as possible. If that's not an option, then you might want to keep your generator in a room that's fairly isolated, like a basement or so.
Generator Features
Automatic Start
This feature helps turn your generator on during a power outage without you having to do anything at all.
Electric Start
Unlike models where you have to pull-start the generator, this feature offers a push-button alternative. Portable models that feature this function will run on batteries, while stationary generators have automatic starting.
Low-Oil Shut Off
When the oil level within a generator falls below the minimum, this function will automatically shut off the generator to prevent engine damage. This is a very common feature to find in both stationary and portable generators.
Fuel Gauge
This is a crucial function to look for in a generator because you want to know how much fuel you have left in your generator during an extended blackout.
Multiple Outlets
It's best to buy a generator that features multiple power outlets so that you can spread the load through your house. Using this function regularly isn't advised as it might the generator and cause other appliances to fry. We highly recommend using a transfer switch.
Best Dual Fuel Generator – 2021 Reviews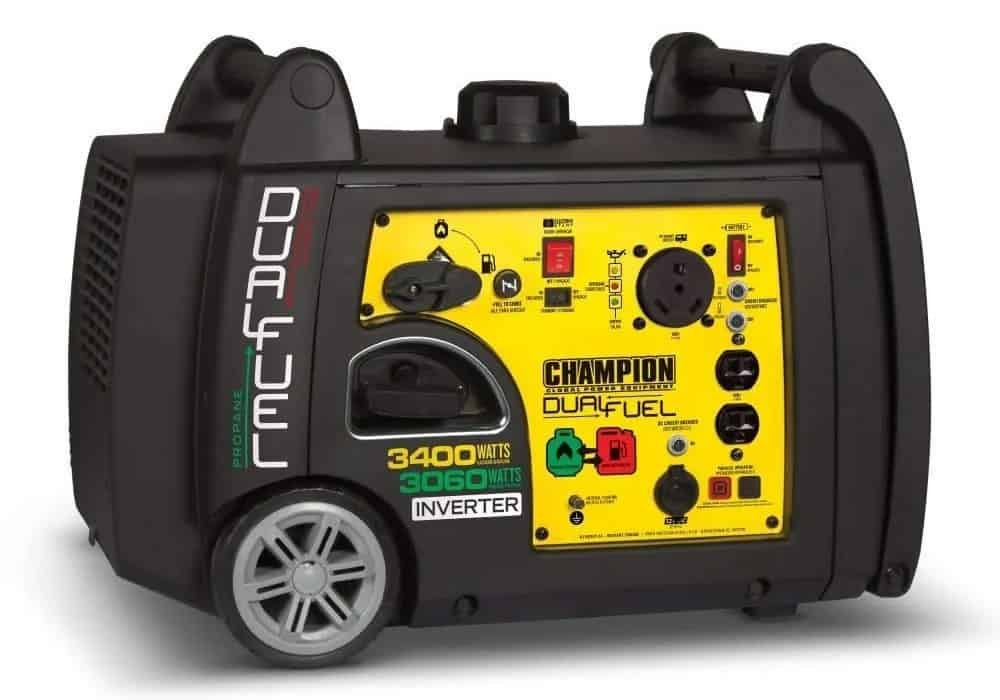 Champion 3400
Best Dual Fuel Generator – Quiet & Portable
Starting Watts:
3,400w |
Running Watts:
3,100w
Max Run Time:
14 hours
(25%)
|
Start:
Electric / Recoil
Fuel Type:
Gasoline & Propane (LPG) |
Noise Level:
59 dBa
Item Weight:
95.7 lb |
Gasoline Capacity:
1.6 gal.
Super quiet compared to other Dual Fuel Generators
Electric start function makes it easy to get it going
Built-in handles and wheels allow for easy transport
Low gas shut-off function ensures the engine's safety
Can run parallelly with other Champion generators
EPA and CARB compliant
Not the cheapest
Not as much power as others in the list
The Champion 3400 is considered by many to be the number one go-to dual fuel generator if you're planning on using propane. Many customers opt for the Champion 3400 to avoid the fumes, stabilizers, and carburetors that are associated with using gasoline. But if you're looking for greater energy output, the Champion 3400 can run on gasoline as well.
This portable generator holds 0.6-quarts of oil and features a low oil shut-off sensor, ridding you of your engine damage worries. Additionally, there's an electric start function for your convenience with a 3-position ignition switch. That's not it, there's also a quick touch panel that allows you to gain access to the controls with ease.
The great thing about the Champion 3400 generator is its super quiet purr at just 59 dBA. The first concern that comes to mind when talking about power generators is usually their noise level, but I'm happy to tell you that you can hold a conversation while this generator is running a few feet away from you. If you decide to place it away from your house, you'll barely even hear it running.
The Champion 3400 is ideal for powering sensitive electronics as it's equipped with a 120V, 30A RV, in addition to two 120V, 20A outlets with less than 3% THD. Not only that, but there's also a 12V DC outlet that features a dual USB adapter. The battery is included in the package and can keep the generator running for up to 7.5 hours on gasoline. Note that the starting wattage is 3400 and the running wattage is 3100.
The generator comes with a built-in folding handle that allows for easy transport on smooth surfaces when coupled with the wheels. It's quite cumbersome to move it around on rough surfaces due to lack of ground clearance, especially if you're a tall person. Overall, this is a fantastic dual fuel generator that's sold for half the price of a Honda generator of the same tier.
DuroMax XP12000EH
Best Dual Fuel Generator – Power Beast
Starting Watts:
12,000w |
Running Watts:
9,500w
Max Run Time:
8.83 hours
(50%)
|
Start:
Electric / Recoil
Fuel Type:
Gasoline & Propane (LPG) |
Noise Level:
74 dBa
Item Weight:
224.0 lb |
Gasoline Capacity:
8.3 gal.
Extremely powerful and reliable performance
Features both key start and recoil start
Fuel efficient with an extended runtime
Heavy-duty, all-metal frame that will last for years
Low oil automatic shut-off for engine protection
EPA and CARB approved
Not the best wheel kit
Can't produce low total harmonic distortion, like some of the higher priced generators in it's class
Heavy
Powered by a DuroMax 457cc, 18HP, OHV engine, this low-cost, high-powered dual generator can accommodate all of your needs. This piece of machinery can handle some serious loads from your air conditioner to your high-amperage power tools with its whopping 12,000 starting watts and its 9,500 running watts. This is enough power to run all of your house essentials.
There are two 120V, 20A outlets, one 120V, 30A twist lock outlet, one 120/240V, 30A outlet, and a 50A heavy-duty outlet for powering the most demanding appliances. The panel also includes a voltage meter, low, oil indicator, circuit breakers, idle control, and DuroMax's MX2 switch. The switch's function is to double your 120V amperage for heavier loads when needed.
This is one of the most rugged dual fuel generators on this list. The all-metal frame features motor mounts that are fully isolated and an oversized muffler for noise reduction. There's also a built-in spark arrestor that maintains the noise level and keeps the operation running smoothly and quietly. Just like all DuroMax generators, this generator is built with copper windings that ensure great longevity.
One thing I dislike about this generator is the tires. The wheels are made of fairly solid plastic, and for a generator that weighs around 224 pounds, the tires just couldn't handle the weight and went completely flat. This is something I'm willing to let slide since no generation with the same specifications will be as affordable as the XP12000EH. I'd highly recommend replacing the tires with a set of pneumatic ones, which don't really cost that much.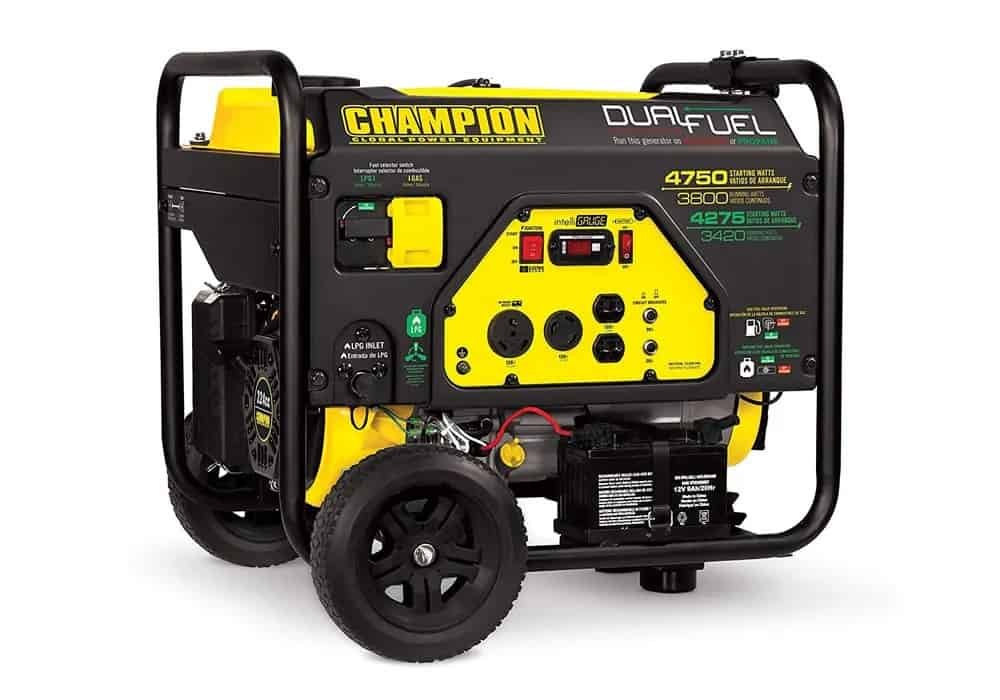 Champion 3800
Best Dual Fuel Generator – All-Rounder
Starting Watts:
4,750w |
Running Watts:
3,800w
Max Run Time:
10.5 hours
(50%)
|
Start:
Electric / Recoil
Fuel Type:
Gasoline & Propane (LPG) |
Noise Level:
68 dBa
Item Weight:
119.0 lb |
Gasoline Capacity:
3.4 gal.
Great price for everything your getting
Oil funnel, engine oil, wheel kit, battery, and LPG hose included
Reliable, quiet, and economic performance
Powerful engine capable of handling demanding appliances
Easy to move around and light enough for a two-man lift
CARB compliant
Changing oil is a little cumbersome
The hand-tow handle is a bit too short
There are three words that describe the Champion 3800: quiet, economical, and easy to use. Weighing at just 119 pounds, this generator is extremely powerful for its size. It's not as heavy as other generators in its class, two men should be able to lift it comfortably. This is one of those generators that can handle some solid knocks because of its rugged frame, making it an ideal unit for work sites.
The Champion 3800 houses a 224cc engine, which has proven to be powerful enough to handle some of the most demanding power tools despite its size. Running this generator on propane is the most preferable option as you can muster up all of its 3800 watts for up to 10.5 hours. The unit is pretty easy to start and you won't need to push the start button that often. When it comes to using the gasoline tank, the generator will run for up to 9 hours on a full tank.
The generator is sitting on 8-inch wheels that make it much easier to move around. Another cool feature that this generator offers is that you don't have to unplug your RV before starting, which is very convenient (if you own an RV, you know what I'm talking about). Also, note that it takes the unit about 20 seconds to start because it's equipped with a circuitry that delays the power supply until the unit is fully powered.
One thing that you may have trouble with is the oil change, given the awkward position of the dipstick. Also, when you receive the generator, you need to do a startup and oil change to achieve full wattage. Detailed steps about completing this stage are included in the instruction manual.
Westinghouse WGen7500DF
Best Dual Fuel Generator – Remote Start
Starting Watts:
9,500w |
Running Watts:
7,500w
Max Run Time:
16 hours
(25%)
|
Start:
Remote / Electric
Fuel Type:
Gasoline & Propane (LPG) |
Noise Level:
74 dBa
Item Weight:
194.0 lb |
Gasoline Capacity:
6.6 gal.
Features electric and smart fob push button start
A sizable 6.6-gallon tank paired with 16 hours of runtime
Extremely powerful
Can power extremely demanding appliances
CARB compliant
Includes a trickle charger for maintained battery health
Requires an adapter cord to connect to an RV
It's loud
The Westinghouse WGen7500DF houses the same engine as its single fuel model, the WGen 7500. It also looks the same, except for the addition of a propane/gas transfer switch and regulator. The WGen7500DF is capable of supplying 7500 watts all day long and can absorb surges of 9500 watts. Keep in mind that the propane tank is not included when ordering this generator.
The WGen7500 has a noise level of 74 dBA, which is pretty noisy considering its 7500-watt rated load. However, you'll find it pretty hard to find a quieter model that's able to deliver the same wattage. It features two GFCI 120V duplex outlets for appliances and tools, and one 120V/240V twist lock outlet, which you can use to hook a transfer switch.
Sadly, the WGen7500DF doesn't have an RV receptacle. An adapter cord is required to connect to an RV. The dual fuel switch is super fast and responsive, allowing you to switch from propane to gasoline and back again while the engine is running, which is convenient since many dual fuel generators require you to turn off the engine before switching from one fuel to another.
One thing I really like about this generator is that it comes with a trickle charger. This charger is used to keep the battery in good condition during storage, ensuring that you never end up with a dead battery when the generator is kept unused for extended periods of time. And yes, not only is it electric start, but it also comes with a push button smart key fob for remote starting too.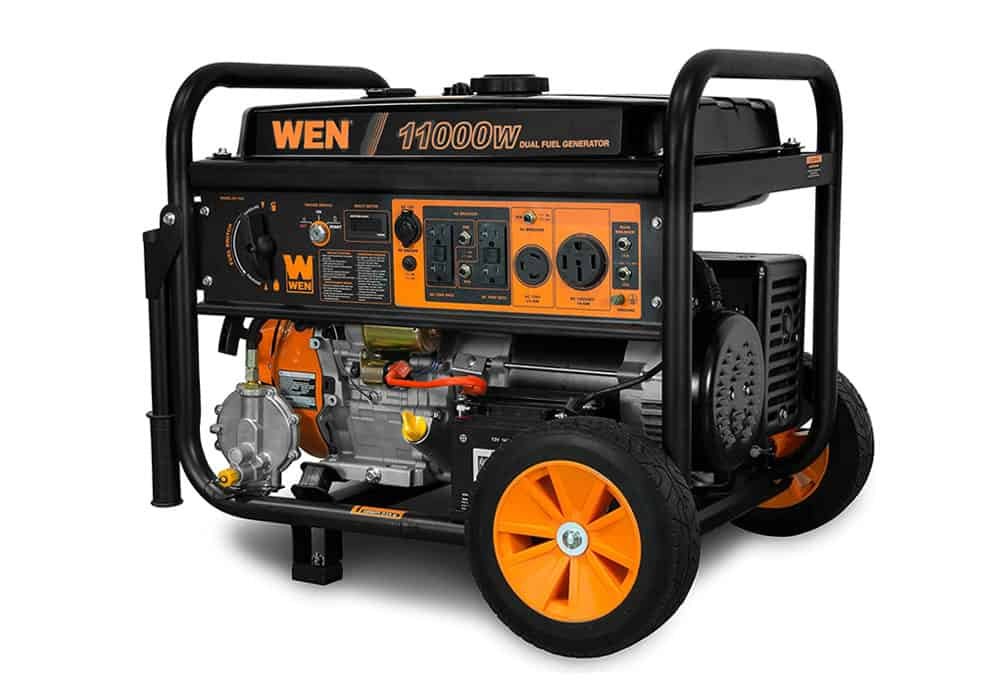 WEN DF1100T
Best Dual Fuel Generator – Value for Money
Starting Watts:
11,000w |
Running Watts:
8,300w
Max Run Time:
8.5 hours
(50%)
|
Start:
Electric
Fuel Type:
Gasoline & Propane (LPG) |
Noise Level:
72 dBa
Item Weight:
213.8 lb |
Gasoline Capacity:
6.6 gal.
Oil funnel, electrical adapters, and tools are included
Extremely powerful engine with very quiet operation
Durable and relatively lightweight construction
Highly affordable and a great bang for your buck
CARB and EPA III compliant
Straight plugs can get in the way of the wheels
The WEN DF1100T is an ideal generator for off-grid work sites and emergencies in general. Its large 6.6-gal tank allows it to run for up to 8.5 hours at half load. When switched to running on the 20-gal propane tank, it can run for an additional 3 hours. There's a slight dip in terms of running and surge wattage when operating on propane compared to gasoline. 8,300 running watts on gas compared to the 7,500 watts on propane. Same for the surge watts. A massive 11,000 watts on gasoline compared to the 9,500 watts on LPG.
This generator is housing a beefy 457cc, 4-stroke, OHV engine that's easily fired up using the electric start function. Although the engine isn't made by a well-known manufacturer, it has proven to be a solid runner and an absolute powerhouse. One of the main assets that make this generator shine is its ability to select to use 120V and 240V at the same time.
Other features include a 12V DC outlet, two 120V, 20A outlets, and one 120V/240V, 30A outlet. It also comes with a 47-inch LPG hose. It's also CARB & EPA III compliant. This WEN dual fuel generator has a lot going for it and it's one of the most reliable and quietest units in its class. For what you are getting, it's definitely on the affordable side of pricing.
There aren't many negative things to say about this generator apart from the overall build quality. Although WEN is a company that's based in the USA, all components of this generator are built overseas, in China. Overall, this is a very competent piece of machinery that provides incredible value for its price.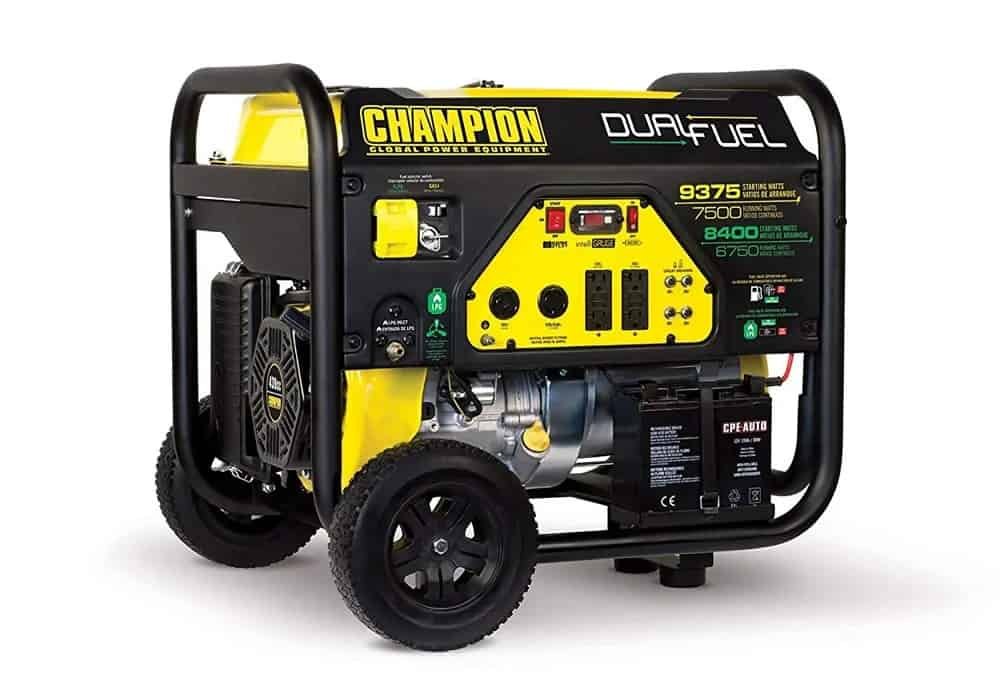 Champion 7500
Best Dual Fuel Generator – Alternative Option
Starting Watts:
9,375w |
Running Watts:
7,500w
Max Run Time:
8 hours
(50%)
|
Start:
Electric / Recoil
Fuel Type:
Gasoline & Propane (LPG) |
Noise Level:
74 dBa
Item Weight:
202.4 lb |
Gasoline Capacity:
6.1 gal.
Equipped with Cold Start Technology
Reliable powerful engine
Comes with a wheel kit and a handle
Runtime and voltage can easily be tracked
Built in safety features for protection against power spikes
EPA and CARB compliant
3 Year Warranty
Very loud performance
At over 200 pounds, it's certainty not lightweight
This is the third entry for Champion on this list, which can be seen as a testimony of their competence. This mode, however, has a running wattage as high as 7500 watts, which is insane for a portable generator. Apart from its high capacity, the Champion 7500 is feature-rich and has a lot to offer. When running on gas, it will deliver 9375 starting watts and 7500 running watts, and when running on propane it will deliver 8400 starting watts and 6750 running watts.
The Champion 7500 is a little bigger than generators with lower wattage capacity and it weighs around 202.4 pounds. It should be easy for you to move this generator around, thanks to the tires kit and the folding handle that come along with it. This generator is equipped with Cold Start Technology which allows it to adapt to harsh weather conditions and startup no matter how cold it is.
When running on gasoline, you should expect this unit to stay running for up to 8 hours at half load. For propane, you can get a solid 5.5 hours at half load. It can store up to 5 gallons of gasoline and 20 pounds of propane. As far as noise, it's obvious that such a large and powerful generator would be the cause of a lot of noise, which is something that you'll have to adjust to take full advantage of that power.
Pulsar PG2200BiS
Best Dual Fuel Generator – Compact & Lightweight
Starting Watts:
2,200w |
Running Watts:
1,800w
Max Run Time:
8 hours
(50%)
|
Start:
Recoil
Fuel Type:
Gasoline & Propane (LPG) |
Noise Level:
60 dBa
Item Weight:
44.0 lb |
Gasoline Capacity:
1.2 gal.
Extremely compact and lightweight construction
Ideal for use on both sensitive and sturdy electronics
The design is impact-resistant and can handle shocks
Comes with a propane hose, 10W30 oil bottle, and spark plug wrench
Super Quiet
EPA approved and CARB compliant
Propane runtime isn't all that impressive
A bit difficult to start up on propane
We've been talking about dual fuel generators that are ideal for homes and work sites, but what about a generator that you can take with you on a boat? The Pulsar PG2200BiS is arguably the best portable generator on the market today. It's extremely compact and lightweight, making it easy for you to take it anywhere. Its impact-resistant design can handle some serious knocks without making a dent. It also features a built-in carrying handle for your convenience.
This generator comes with a USB port that provides safe and clean power for your sensitive electronics. And in case your electronics require more power, the PG2200BiS has a capability to be hooked to another generator parallelly. You'll absolutely love how quiet the performance of this unit is in comparison with other models. It's not completely silent, but the noise is barely noticeable
This generator features an 8-hour runtime when running on a single tank of gasoline, and a runtime of 75 minutes when running on one pound of LPG at half load. Starting the generator on gasoline is pretty smooth and quick. However, many customers have reported that it requires a few pulls and a few seconds to fire it up on propane. Overall, a great bang for your buck if you're looking for a quiet and easily portable dual fuel generator.
Conclusion
The marketplace for power generators is pretty heated and it's almost impossible to decide on which generator is the absolute best. However, when it comes to our list, we think the Champion 3800 stands out the best all rounder. We were also very impressed with the DuroMax XP12000EH in terms of power and functionality. Let us know what you think of our list and which dual fuel generator you think meets your needs the most.