Briggs & Stratton
3000-Watt RV Ready Power Smart Inverter Generator

Yamaha
EF2000iSv2 Gas Powered Portable 2000W Generator Inverter

If you buy something using links on this page, we may earn a commission, at no extra cost to you. This helps support our research. Please consider subscribing to poweradvice.org
To get a tailgating party going, having a reliable, lightweight, and portable generator is a must. Your tailgating experience won't be complete if you don't have a power source to play some cool music or power your cooking appliances while you're having fun with friends and family. If you're looking for the best generator for tailgating, then you've come to the right place.
Do You Need a Special Generator for Tailgating?
Generators designed for other purposes might cause lots of noise while running, sucking the fun out of your tailgating party. Tailgating generators are designed to run quietly while providing the needed power output. Here are some reasons why you should get one.
Portable generators designed for tailgating are usually very easy to set up. No special installation is needed so you can easily get your party started even if this is your first time to use one.
Nothing beats enjoying your freshly cooked meals while enjoying the party with your friends. Using the generator you can operate a smoker or grill to cook the best steaks, burgers, and hot dogs for the whole gang.
You'll never sit in the dark because the generator will provide you with electric power. If you're spending time with your family in the outdoors, having enough light will guarantee everyone's safety while they're having fun.
Having a reliable and portable generator will also come in handy when you are at home. This unit can provide you with electricity in bad weather if the power cables are cut. It will keep your fridge and heater running in case of an emergency.
How to Choose the Best Generator for Tailgating
Taking time to pick a good and suitable generator will save you lots of hassle. Generators come in a variety of shapes and watts, so you must make sure that you're picking the right one. Here are some factors to take into consideration.
Power Output
This will determine how powerful your generator will be. As a result, it will affect the number and type of devices and appliances that you can use.
Take a look at the appliances or devices that you want to operate and add up the wattage. Add more capacity to stay on the safe side. Buying a powerful generator means that you can run more appliances safety, but will usually cost more money.
Weight and Portability
Having a lightweight and portable generator is definitely a plus. But a very lightweight model might not be the right choice. Lighter models produce less power output. This means that you might not be able to run the smoker and the sound system at the same time.
There are several models that are not that heavy and would still be able to provide you with enough power. Check out the appliances that you want to run and make sure that you pick a suitable generator.
In addition to the weight, you should check for portability. Pick a design and shape that you can carry around easily because you'll be doing that a lot.
Fuel Options
Generators can be powered by gas and/or propane. The key here is availability. Buying a generator that doesn't cost much to run and maintain means that it will be good value for money.
Moreover, you should think about fuel capacity. This will affect how many times you have to fill the tank and will automatically have a direct impact on the fun you're having at the party.
Having a big fuel tank that requires no regular filling means that you can focus more on the party and less on your generator. However, a larger tank is usually associated with a bigger generator that might not be that easy to move around.
Outlets
The number and shape of power outlets depend on your personal needs. There's no need to get a generator that has several big main voltage outlets if you're only looking for a unit to recharge your smartphone away from home.
Make sure that the generator you're buying has several main voltage ports and USB outlets so you can use it to power cooking appliances, light and sound equipment, and smart devices when necessary.
Noise Level
When you're trying to have fun with friends, you don't want a generator that overpowers the sound of music and laughs. With some research, you can find a decent regular generator that won't drive everyone mad with continuous noise.
Safety Features
To guarantee that everyone will go home with good memories, pick a model that has some decent safety features. Low-oil shut off is a good feature that can save your engine from being damaged. It will remind you that your generator needs some lubrication because it's unlikely that you'll be paying attention to the generator while the party is taking over.
Overload protection can stop a fire from happening. It will automatically shut off the engine when the generator is too hot or a short circuit is about to happen.
Best Generator for Tailgating – 2023 Reviews
Finding the right generator depends on your personal preferences and needs. Here are our top picks.
Briggs & Stratton P3000
Best Generator for Tailgating – Big Power & Compact
Starting Watts:
3,000w |
Running Watts:
2,600w
Max Run Time:
10 hours
(25%)
|
Noise Level:
58 dBa
Fuel Type:
Gasoline |
Gasoline Capacity:
1.5 gal.
Item Weight:
85.0 lb |
Inverter System:
Yes

Powerful generator for it's size
Bigger tank than most in it's class
Multiple power outlets and even a USB port
Parallel port also
QPT (Quiet Power Technology)
LCD Display
24-month warranty
Heavier than other generators in its's class
Not the cheapest option
This generator might be pricier than others, it provides a high power output of 3000 watts which is enough to run several appliances at the same time, making it a good choice for big tailgating events. It features 4 household outlets, a single DC 12V outlet, and a USB port so you can also use it to charge your smartphone.
The 1.5-gallon tank can run up to 10 hours at 25% load. The generator features a parallel port so you can easily connect it to another one if you need more power.
This unit is heavy, weighing 85 pounds, but it comes with a luggage-style telescoping handle and wheels for easy transportation. It comes with an LCD display that shows performance and maintenance reminders.
If you're looking for a powerful generator, then this gas-powered 171cc engine won't let you down. The Briggs & Stratton 30545 P3000 Power Smart generator operates at a noise level of 58 decibels at 25% load, but it gets a lot louder when you're using it at full load.
Yamaha EF2000iSv2
Best Generator for Tailgating – High Quality & Quiet
Starting Watts:
2,000w |
Running Watts:
1,600w
Max Run Time:
10.5 hours
(25%)
|
Noise Level:
51.5 dBa
Fuel Type:
Gasoline |
Gasoline Capacity:
1.1 gal.
Item Weight:
44.1 lb |
Inverter System:
Yes

Extremely portable generator
Super Quiet
Very easy start
Runs for a long time
Air cooled
3-year warranty
EPA CARB rated
Limited number of outlets
No USB Port
A little expensive
Running at a noise level of 51.5 dBA at 25% load, this generator is a good choice for small gatherings as it provides 2000 watts of output. The compact design weighs 44 pounds and comes with a handle so you can move it around easily.
The gas-powered engine has an auto decompression system that facilitates starting, while the auto warming feature increases the speed during cold starts. You can easily connect two generators thanks to the parallel function. It has an oil level watching system and an overload protection feature to protect the 79 cc engine while you're enjoying the party.
It has a smart throttle that varies the speed according to the load needed. This feature improves fuel use and noise level. The engine provides clean power that you can use with any appliance and the 1.1-gallon tank keeps the generator running for 10.5 hours at 50% power load.
However, there are only two AC 110 V outlets and one DC 12V outlet. There's no USB port to power your smart devices, which is something you should expect at this price level.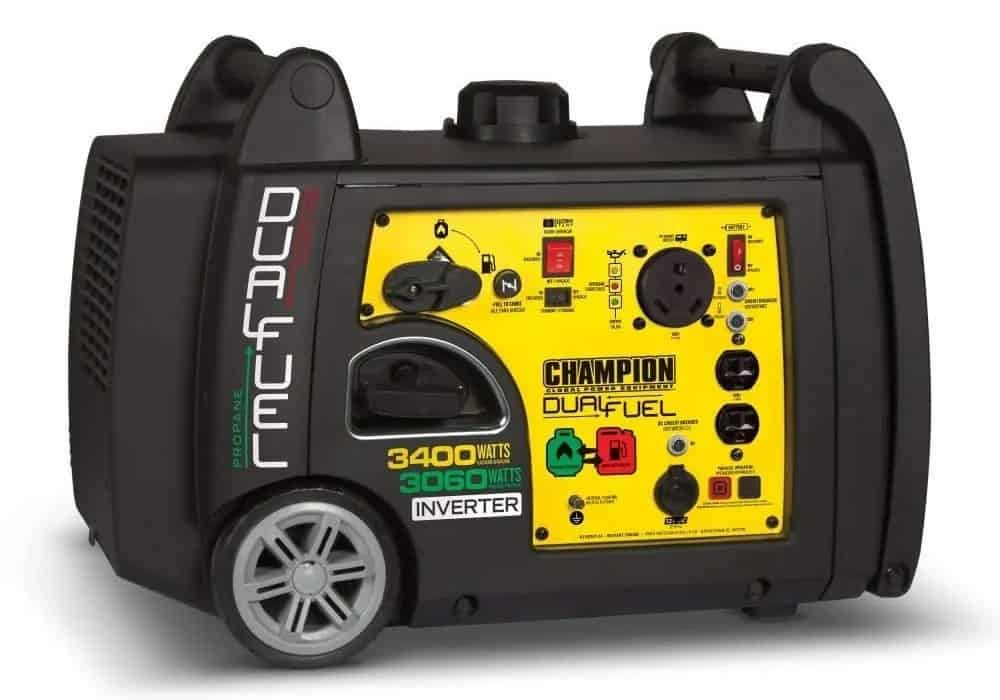 Champion 3400
Best Generator for Tailgating – Dual Fuel
Starting Watts:
3,400w |
Running Watts:
3,100w
Max Run Time:
14.5 hours
(25%)
|
Noise Level:
59 dBa
Fuel Type:
Gasoline & Propane (LPG) |
Inverter System:
Yes
Item Weight:
95.7 lb |
Gasoline Capacity:
1.6 gal.
One of the most powerful generators in it's class
Dual fuel motor (Gasoline & Propane)
Several output options including USB adapter
Electronic start
EPA approved and CARB compliant
3-year warranty
Parallel ready
Inverter system built-in
Clean power for sensitive electronics (<3% THD)
Heavyweight
Expensive to buy at full price (*note: currently on special offer with a huge saving)
If you need to power several appliances while tailgating, then this the Champion 3400 is the right generator to pick. It's RV ready with 120V RV outlet, two 120V household outlets, and a DC 12V outlet with a dual USB adapter.
This is a heavyweight item that weighs 97 pounds but comes with wheels for portability. It offers a maximum power output of 3,400 watts upon starting so it won't fail to power your smoker, RV AC, and entertainment equipment. Nevertheless, it comes with a hefty price tag.
In spite of its power, the generator runs at a low noise level of 59 dBA. The 192cc 4-stroke motor is a dual-fuel model that runs on gas or propane. This will increase fuel efficiency. It runs for 14.5 hours on propane and 7.5 hours on gas when running on 25% load. If you're using gas, this might not be the best unit for you.
Thanks to the electronic start, you won't suffer getting this generator to work. This is why we recommend it for beginners. It features a low-oil shut off feature that saves your motor in case of an emergency and you can connect two units if you need more power.
Westinghouse iGen2200
Best Generator for Tailgating – Value for Money
Starting Watts:
2,200w |
Running Watts:
1,800w
Max Run Time:
12 hours
(25%)
|
Noise Level:
52 dBa
Fuel Type:
Gasoline |
Gasoline Capacity:
1.2 gal.
Item Weight:
46.0 lb |
Inverter System:
Yes
Super lightweight making it highly portable
Affordable price
2 USB ports
Low noise level when operating
CARB compliant
Can be a little difficult to start
Not as many ports as others in the list
For those who are on a tighter budget, the Westinghouse iGen2200 represents a great choice with 2200 watts at peak output and two 120V outlets in addition to two USB outputs. It's an excellent choice for small parties as it won't fail to power your essential appliances.
The 79cc motor operates at a low noise level of 52 dBa. The 1.2-gallon gas tank capacity runs for an incredible 12 hours at 25% load.
We recommend this tailgating generator if you're looking for a compact and lightweight generator as it weighs 46 pounds. It also features a suitcase-style handle for portability. It produces clean and stable power so you can use it to power electronics safely (Sine Wave Output). You can also connect it to another one thanks to its parallel capability.
The generator adjusts the speed of the engine automatically so you can use the eco-mode when you don't need full power. However, it's can be a little difficult to start up.
WEN 56200i
Best Generator for Tailgating – Alternative Pick
Starting Watts:
2,000w |
Running Watts:
1,600w
Max Run Time:
9.4 hours
(25%)
|
Noise Level:
51 dBa
Fuel Type:
Gasoline |
Gasoline Capacity:
1.0 gal.
Item Weight:
48.0 lb |
Inverter System:
Yes
Good power output at an affordable price
Several output options including a USB port
Super quiet operation
Parallel capability and eco-mode
EPA III and CARB compliant
Runtime is lower than most
Smaller gas tank
Given its affordable price, this generator provides a decent output of 2,000 watts. It comes with a carrying handle and weighs 48 pounds, so it's a bit heavy.
The generator features a versatile panel so you can use it to power appliances and smart devices when you're away from home enjoying sports and fun events with friends and family. It has a single 12V DC outlet and two 3-prong 120V sockets, in addition to a 5V USB port. It's designed to handle sensitive electronics with minimal harmonic distortion.
Moreover,  if you need more power, the WEN 56200i comes packed with a parallel connection kit allowing you to connect it to another generator. As we all know, tailgating means you need to keep that party going. You can also adjust the engine to work on eco-mode if you don't need to run it on full capacity.
Its 79.7 cc gas-powered 4-stroke OHV engine operates at 51 dBa at 25% load, making it quieter than most generators. It comes with safety features for overload protection and low-oil shutdown.
However, it takes a few pulls to start and you'll need to keep your eye on the tank because 1 gallon of fuel will only run for six hours if you're using 50% power. This is quite modest compared to similar-sized models. Still, it's a great choice for buyers on a tighter budget.
Conclusion
If you're looking for a versatile and powerful generator, then we recommend the Champion 3400. It's an excellent choice for tailgating events as it provides enough power output for all your party needs. It's quite easy to start and features a dual-fuel option. It comes with a high price tag, but it can power anything from your RV AC to a smartphone.
Luckily, there are several options for every need and budget. Take care of your generator and keep it dry and clean. If you're transporting it in the back of a truck, use a strap to keep it stable. Now that your generator is ready, it's time to get your tailgating party started.