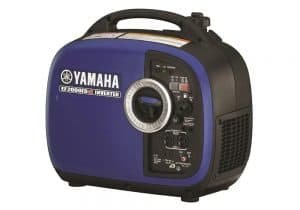 Yamaha
EF2000iSv2 Gas Powered Portable 2000W Generator Inverter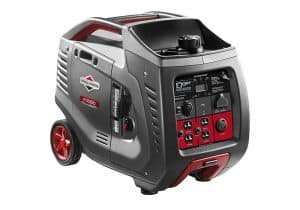 Briggs & Stratton
3000-Watt RV Ready Power Smart Inverter Generator

If you buy something using links on this page, we may earn a commission, at no extra cost to you. This helps support our research. Please consider subscribing to poweradvice.org
You've picked out a camping site, set the date that works for everyone, and come the day of the trip, your discover your battery won't be enough to sustain all the lighting, cooling, and charging. You need a generator for travel trailer getaway purposes.
This portable generator becomes your very own source of power that you can use on-the-go or as a backup, so you'll never have to worry about cutting your trips short or limiting your bookings to campsites with that have electrical mains.
Purchasing this generator can get rather challenging with all the brands, types and features. This guide will give you all the information you'll need to pick out the best generator, based on your specific travel trailer needs.
Choosing the Right Generator
When it comes to generators and travel trailers, the options are quite variable with all sorts of sizes, power levels, and convenience additions. It's easy to get lost in all the specs, but I'm here to walk you through it.
The best generator for a travel trailer is the one matching your needs the most, so here are some points to think about.
How much Power Do I Need?
This is the million dollar question when it comes to buying a generator since you're basically deciding how much power you'll be using. Actually, to better answer this question, you should instead determine what exactly will you be operating on the course of your trips.
The number of appliances you'll be connecting to the generator will directly correspond to the power generation capacity you require on a generator. You have to be accurate about this, you don't want to end up with too little capacity that doesn't cover all appliances, or too big of a capacity that just costs you extra uncalled for money.
Your air conditioner will be demanding the most wattage, so it's probably the best place to start your calculations. You need to account for the starting wattage of your air conditioner not just its running wattage. Then think about what else you're going to need, a cup of coffee in the morning means 600 watts for a coffee maker, a cold one equals another 600 watts for the fridge, listening to the radio or using your laptop equals around 250 watts of additional power, and charging your phone takes 4 watts.
Now that you get the drill, start by making a list of every appliance you want to power along with their respective running wattages and add those values up. To calculate the surge capacity, add the starting wattage of the appliance with the highest startup requirement, which is that of your air conditioner. The minimum wattage of a decent generator should equal the startup wattage of your air conditioner.
What Fuel should I Use for My Generator?
Generally speaking, generators run on one of three types of fuel. Each of them has the good and the bad, so the choice of which to use is up to your preference.
Gasoline
Gas is the most readily available source of fuel, it's easy to obtain, and it's a cheap buy. Gasoline powered generators tend to be more powerful as well as quite portable. Even if you get a bigger size, they'll have wheels to make it easier for you to move them without carrying a heavy load.
On the downside, gasoline doesn't burn clean and it's highly flammable. This means you need to be super careful about how you store and transport it. Gas also has a rather short shelf life, around 12 months only, and you must remove it from the tank if you're not regularly operating the generator or it'll possibly clog the carb.
Propane
Propane is a clean-burning source of fuel with less odor and it's easily stored in cylinders. It lasts for extended periods thanks to its long shelf life, so you can keep it for the following summers without worrying about it losing its kick. Propane powered generators are quieter than gas-powered ones and are less expensive.
The catch with propane powered generators is that they are not as powerful as gasoline or diesel-fueled generators and they don't operate at full capacity. Also, they are more difficult to transport because a gas tank must tag along.
Diesel
Diesel-powered generators deliver the most power. The fuel itself burns clean and is safer than gasoline.
What Should I Consider before Buying a Generator for a Travel Travel Trailer?
Budget
Portable generators can be quite costly, but it all depends on their size and power. Going in with a budget in mind can give you a better idea of the best choice in your case.
Remember to also factor in the amount of fuel your generator will be consuming according to the run time per gallon. This will help you estimate the additional expenses other than the basic price of the machine.
Noise level
Generators, especially gas-powered ones, can get pretty loud. If overly noisy, generators can ruin the outdoor mood and experience for you and those around you.
Portability
It's only logical for "portable" generators to be relatively easy to move. Even if they accommodate wheels, weight should still be an important attribute to consider, since you'll have to carry the generator in and out of the trailer.
Materials
The materials used in constructing the generator should be sturdy and resistant to the weather elements as generators spend most of their time out in the open. You want your generator to stand its ground for many years.
Extra features
Who doesn't love those? It's always nice to have bonus features for added convenience and safety, like dual fuel options and remote control.
Best Generator for Travel Trailer – 2023 Reviews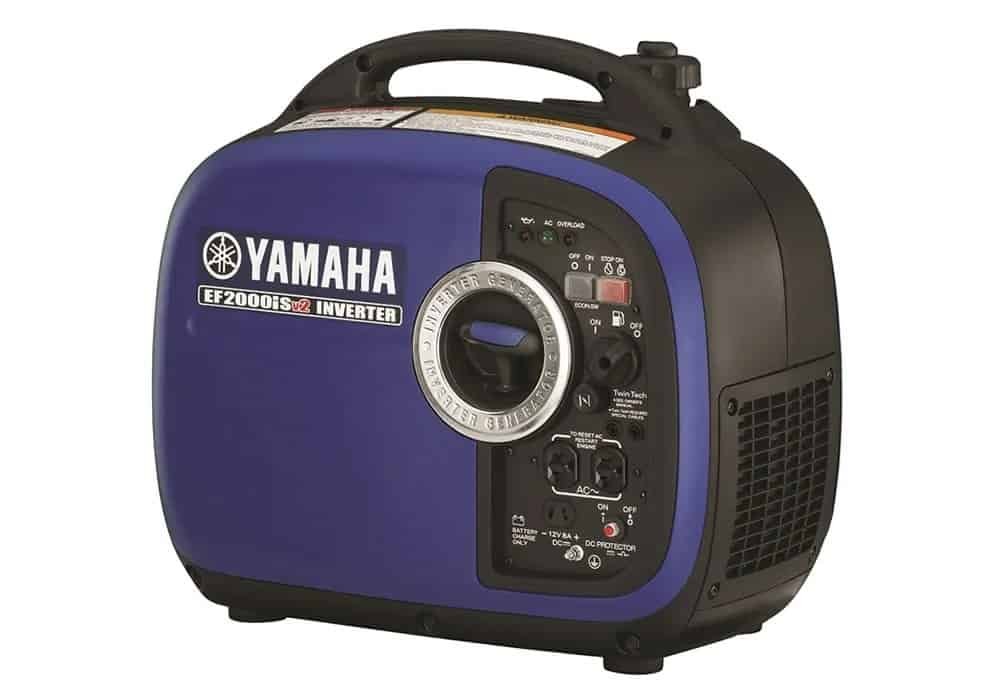 Yamaha EF2000iSv2
Best Generator for Travel Trailer – High Quality & Low Noise
Starting Watts:
2,000w |
Running Watts:
1,600w
Max Run Time:
10.5 hours
(25%)
|
Noise Level:
51.5 dBa
Fuel Type:
Gasoline |
Gasoline Capacity:
1.1 gal.
Item Weight:
44.1 lb |
Inverter System:
Yes

Packs an inverter generator with pulse width to protect sensitive electronics
Easy recoil starter
Smart Throttle guarantees engine efficiency
Runs for a long time
Lightweight at only 44 pounds
Three-year warranty
EPA & CARB rated
Could use more ports and outlets
Sensitive low oil sensor
Not for heavier workloads
Pricier than others
For adventurers with low-demanding travel trailers who are looking for a generator that's not too hefty, Yamaha EF2000iSv2 might be exactly what you need with its compact size and 44.1 pounds of weight, portability has a whole new meaning.
The Yamaha generator gives 1600 watts running power and up to 2000 watts starting power, not the highest output, but it can be enough for a number of appliances. The built-in inverter system provides clean AC power to safely operate sensitive equipment. It also features Smart Throttle, which automatically adjusts engine speed to match the workload thus saving fuel.
It's one of the lightest generators on our list, you can even lift it single-handedly. The noise level is around 52 dBA when it's working under a 400-watt power load, and reaches 61 dBA operating at 1600 watt power load, thanks to its sophisticated muffler. The run time is 10.5 hours at quarter load and 4 hours at full load, which is a bit disappointing.
One negative point though is the overly sensitive low oil level warning system which may shut down suddenly unless you make sure you're always filling the oil pan to the max.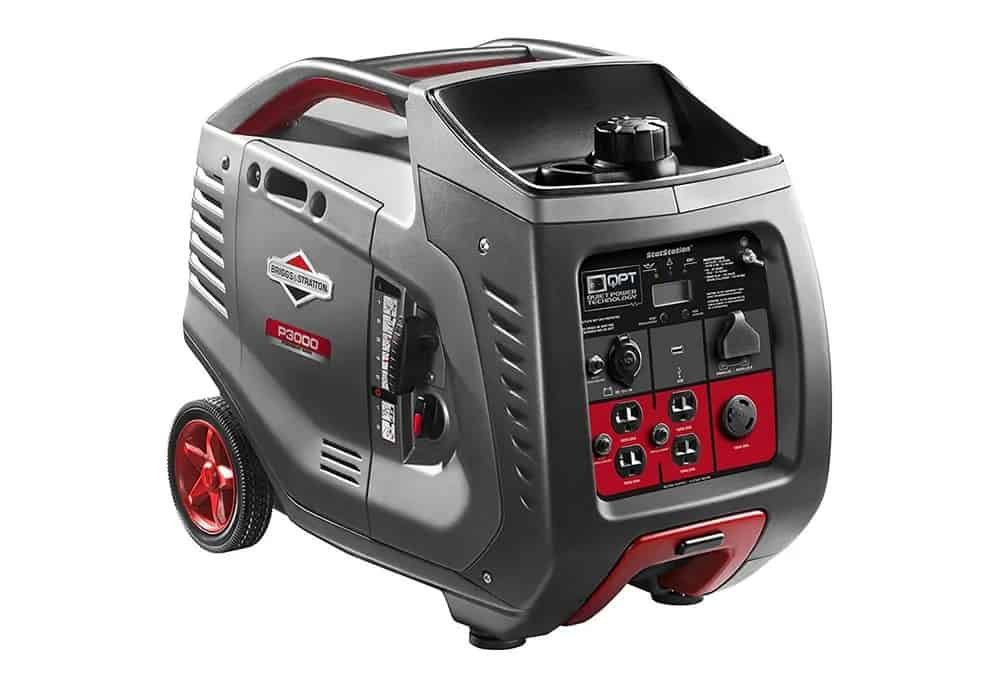 Briggs & Stratton P3000
Best Generator for Travel Trailer – Compact Power
Starting Watts:
3,000w |
Running Watts:
2,600w
Max Run Time:
10 hours
(25%)
|
Noise Level:
58 dBa
Fuel Type:
Gasoline |
Gasoline Capacity:
1.5 gal.
Item Weight:
85.0 lb |
Inverter System:
Yes

Big power and large gasoline tank for it's size
Luggage style handle
Many ports including USB
Has parallel port connection
Quiet Power Technology
LCD display for close monitoring
2-year warranty
Heavy compared to other models
Not CARB compliant
On the higher-end of pricing
Next up we have another huge name in the industry with over 100 years of producing power equipment, Briggs & Stratton introduce the P3000 inverter generator out of the PowerSmart Series.
The portable generator produces 3000 watts of starting power and 2600 watts of running power, this amount is enough to work an average travel trailer air conditioner while still being able to run other lighter appliances. The engine is clean-burning designed with Inverter technology to make it quieter with economic fuel use and fewer emissions.
For further noise control, this gas-powered generator sports Quiet Power Technology which allows you to select the engine speed to perform more quietly and efficiently, reaching as low as 58 dBA.
At a 25% load, this generator will run for 10 hours on a full 1.5-gallon tank. If you don't want to use one of the 120V 20A ports, the parallel port can be very helpful as you get to run two generators side by side. It comes equipped with a USB port and a 12V DC port as well.
There's an LCD screen that displays all the running statistics and also shows reminders for maintenance requirements. The telescoping luggage-style handle coupled with solid 6-inch wheels and 85 pounds of weight, make portability a whole lot easier. Add in 2 years of warranty, and you got yourself an awesome deal.
Champion 3400
Best Generator for Travel Trailer – Dual Fuel
Starting Watts:
3,400w |
Running Watts:
3,100w
Max Run Time:
14.5 hours
(25%)
|
Noise Level:
59 dBa
Fuel Type:
Gasoline & Propane (LPG) |
Inverter System:
Yes
Item Weight:
95.7 lb |
Gasoline Capacity:
1.6 gal.
Dual fuel option allowing you to use either gasoline or LPG propane
One of the most powerful generators in it's class
Quiet for it's power size
Convenient electric start
Parallel support
Clean power inverter system
EPA approved and CARB compliant
Three-year warranty
Can be too heavy for some users
Would have been nice to see a remote start
Pricey
Supported by years of experience behind their name, Champion presents with a generator that combines both durability and versatility, their 3400-watt portable generator has enough power to handle almost any workload.
This generator offers a super convenient dual fuel option, which right out of the box lets you choose whether to run your portable generator on either gasoline or propane. It also holds up to 0.6 quarts of oil with a low oil shut-off sensor for added safety.
At a push of a button, you get the convenient electric start with a 3-position ignition switch and Cold Start technology for a quick firing up of the battery in cold weather. This eliminates the wait for heat up before you can run your generator.
The Champions generator produces 3400 starting watts and 3100 running watts, which can easily operate multiple appliances without overload concerns. Actually, it can run up to 7.5 hours on a full tank of gasoline or 14.5 hours when you use a 20-pound propane tank at a 25% load.
Transporting this generator shouldn't be an issue thanks to its 95.7 pounds of weight. The foldaway handles and sturdy wheels facilitate the portability and storage of the generator. It's also rather quiet with a 59.0 dBA noise level, the same as that of a normal conversation. The Quick Touch panel has the controls strategically placed in one area for easier access.
The Champion generator is EPA certified and CARB compliant with a 3-year limited warranty and free technical support for life. The price of this generator is on the high side, but the inverter technology, as well as the packed features, make up for the money as it reduces the electric load and fuel consumption.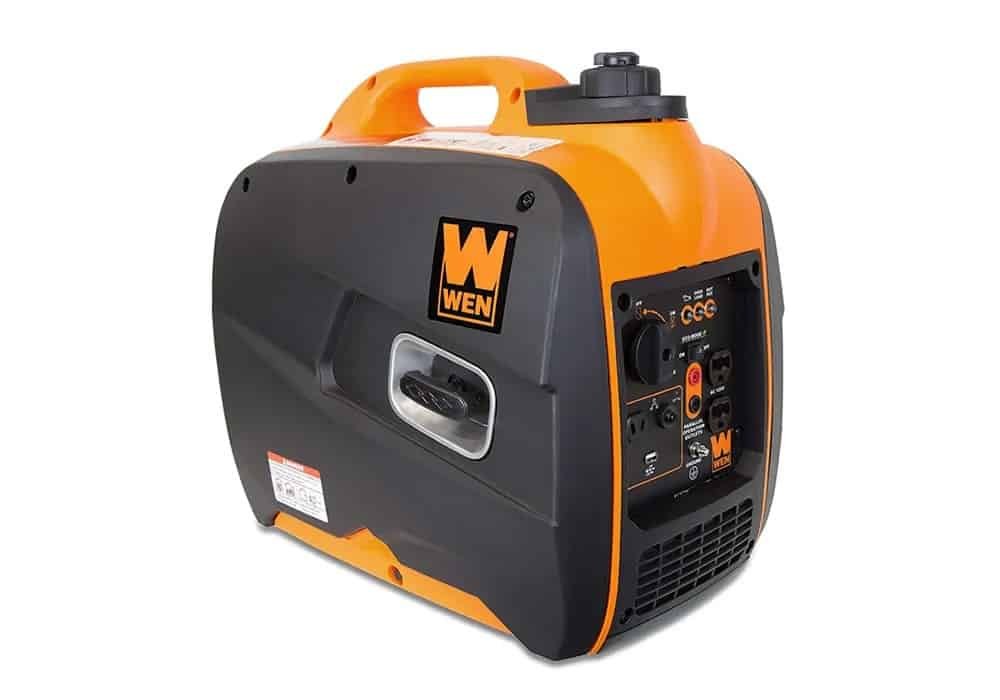 WEN 56200i
Best Generator for Travel Trailer – Alternative Pick
Starting Watts:
2,000w |
Running Watts:
1,600w
Max Run Time:
9.4 hours
(25%)
|
Noise Level:
51 dBa
Fuel Type:
Gasoline |
Gasoline Capacity:
1.0 gal.
Item Weight:
48.0 lb |
Inverter System:
Yes
Super quiet
Very affordable
Lightweight with a carrying handle
CARB compliant
Multiple ports including two USB
Lacking power for larger workloads
Refueling can be tricky
Let's tell you about the WEN 56200i portable generator. The inverter technology controls a steady flow rate in order to keep your appliances free from any damage via electrical spikes. It also regulates the engine's speed according to drawn power, resulting in efficient fuel usage.
The "Super Quiet" aspect is demonstrated in the extremely low noise level of the engine operating at 51 dBA at quarter load. This is quieter than a window air conditioner or a normal conversation, which makes it travel trailer friendly.
The WEN generator can produce 2000 watts of start-up power and 1600 watts of running power with overload protection. This gas-powered generator has a fuel tank of 1-gallon capacity that's able to run for 6 hours when full at half load and around 4 hours at full load. If you need more than 2000 watts, you can use the parallel connection to link two generators together for extra power push.
This generator was also designed with portability in mind, weighing 48 pounds and featuring a handy carrying handle. Each unit comes with two 3-prong 120V receptacles, a 12V DC port for charging batteries, and 5V USB port. If all this doesn't convince you, the price point will!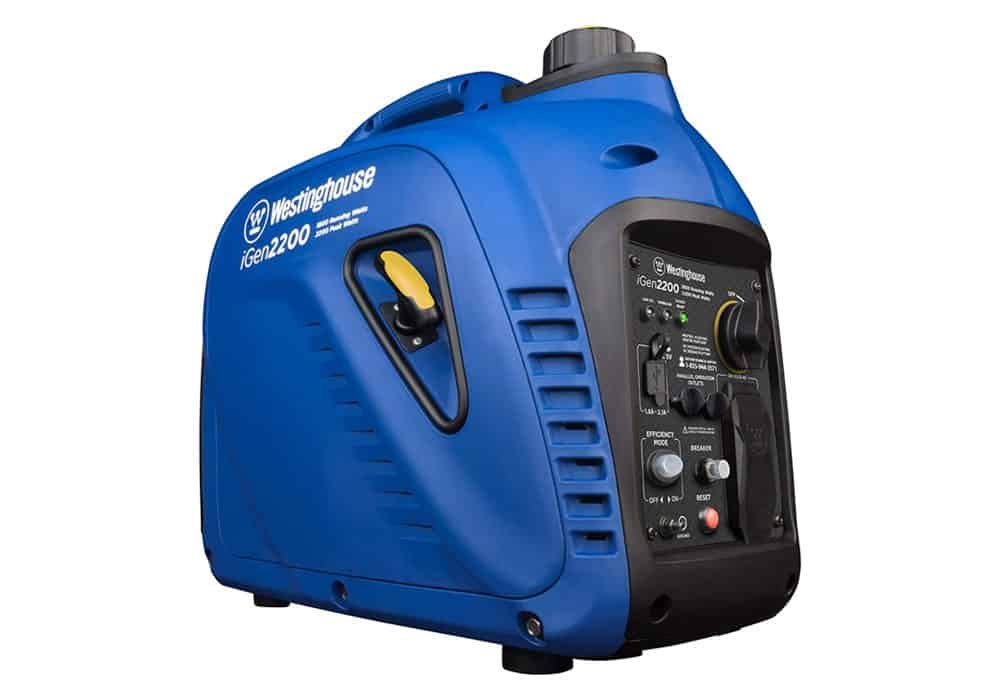 Westinghouse iGen2200
Best Generator for Travel Trailer – Value for Money
Starting Watts:
2,200w |
Running Watts:
1,800w
Max Run Time:
12 hours
(25%)
|
Noise Level:
52 dBa
Fuel Type:
Gasoline |
Gasoline Capacity:
1.2 gal.
Item Weight:
46.0 lb |
Inverter System:
Yes
Excellent value for money
Easy to use
Lightweight making it good to travel with
Carb compliant
Has USB ports
Very quiet
Limited number of overall ports
Gas tank size and power is on the lower-end
Westinghouse has been in the game for over 130 years, making high-quality portable generators, and the iGen2200 serves as proof of why this brand is widely popular, starting from its competitive price and dependable performance.
You'll find transporting this generator to be particularly breezy thanks to the built-in suitcase-style handle and only weighs 46 pounds. It's also rather quiet operating at a low volume of only 52dBA which makes it ideal for outdoor adventures.
This gas-powered generator produces 2,200 watts of starting power as well as 1,800 watts of running power, offering up to 12 hours of constant work on a 1.2 gallon tank (at 25% load). Moreover, this model has an power inverter system built in (Sine Wave Output) allowing you to confidently power your electronics with a clean and stable connection.
This generator is perfect for trips away in your travel trailer. The port selection is not the best I've seen but does have two 120V 20A outlets and two 5v USB ports. This generator is EPA and CARB compliant, and comes with a 3-year limited service warranty.
If you're looking for a reliable generator that doesn't make a dent on your wallet, then the Westinghouse iGen2200 might be your calling.
Conclusion
When I'm out in the open, being prepared for any scenario is my top priority. For this reason, the Champion 3400 generator takes this one home. The durable generator brings loads of power, fuel options, as well as multiple convenience boost ups. However, it does come with a fat price.
Don't fret yet, if you're on a tighter budget and looking for something a bit more affordable to take away in your travel trailer, but still offers solid performance, the Westinghouse iGen2200 portable inverter generator should be right up your alley!