Powerhorse
7500-Watt Quiet Portable Inverter Generator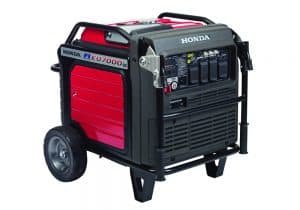 Honda
7000W Inverter Generator w/ Bluetooth
$4,599.00

If you buy something using links on this page, we may earn a commission, at no extra cost to you. This helps support our research. Please consider subscribing to poweradvice.org
Your food truck is awesome! It looks great, obviously. But what your ability to cook all that delicious food? You need to find the best generator for food truck operators like yourself. We will help you pick out a reliable, portable and preferably something that has the power you need and isn't loud. Let's go.
Why invest in a good generator for your food truck?
It isn't always possible to plug into an outlet and event planners don't always consider supplying power for their food trucks. Weird, I know — but it happens! Having a reliable generator that can power all of your biggest appliances is a must for any food truck operator. You never want to risk losing business or decrease your mobility because of power limitations. Half the game is being able to drive to the customers, not the other way around.
This is even more crucial as food trucks operate during the Covid-19 pandemic. Many are hitting the road and offering delicious meals within residential neighborhoods and public parks, as social distancing guidelines limit the amount of people that can gather in one place.
A generator ensures that you're 100% covered no matter where you set up shop and that you are always free to move on to more prime real estate.
How much power do I need?
Understanding the scope of what appliances you run is crucial to determining the amount of power you'll need to run everything in your kitchen. There's usually some pretty heavy artillery at work, such as refrigerators, AC, lighting and decor, etc. and they require a lot of juice to get the job done.
This can be broken down into appliances with resistive loads or reactive loads. Resistive loads take the same amount of power to start up as they do to run; this includes things like toasters and coffee makers. Electronics that qualify as reactive loaders take more power to start, but less power to run consistently afterward; fridges and air conditioners are examples of reactive load electronics.
Each generator has a specific wattage rating for both starting and running watts; the amount of juice required to get your appliances started, as well as what they need to keep going throughout the day. Calculate which generator suits your kitchen best by adding the total running wattage of all of your appliances, as well as your total starting wattage. Compare these numbers against the specifications of each generator and you'll be cooking in no time!
We also recommend factoring in any upgrades you plan on purchasing for your portable kitchen when making a generator purpose. That new, 1600W espresso machine could put you over your power output if you buy too small of a generator.
The different types of generators
When considering which generator is right for you, it is important to understand whether you need a conventional generator or inverter generator. Both are solid options, but selection is based off of the needs of your food truck and what you need to run. Let's break down the big differences:
Conventional Generator
Typically used as the primary generator
Produces power through a motor and alternator
Heavier and larger in size than inverter generators
Run for longer periods of time
Usually have a higher power output
Needs constant RPM
Inverter Generator
*Typically quieter with less vibration
Utilizes multiphase power and circuitry
More fuel-efficient
Lightweight and easier to move than conventional generators
Engine speed can be adjusted for load variation
Both of these generators have their utility for different projects, which one best suits your food truck?
Don't

make some noise

This is one of the hottest topics when it comes to generators — how much noise does it make? If a generator is too loud it can get annoying pretty fast and can also impede your ability to talk to your customers. That's a big no-no for most food truck businesses. You're going to be standing next to this generator all day, several days a week, so make sure it's volume output is something you can handle.

It is definitely worth buying a generator with a lower decibel output (this will also probably mean you want an inverter generator). Certain cities or areas of business may also require the noise level of generators to be under a predetermined decibel per their specific regulations or ordinances. Check your common areas of business before purchase to make sure you meet all the necessary requirements. Anywhere below 70 dB is usually a safe bet.

It's also important to consider your customers when purchasing a generator; a noisy truck can be a turn-off for some potential diners.
Best Generator for Food Truck – 2023 Reviews
We hope you have an idea of your non-negotiables now and what you need in your generator. Whether you're looking for uncompromising power or a quiet hum that won't drive you nuts, you have options.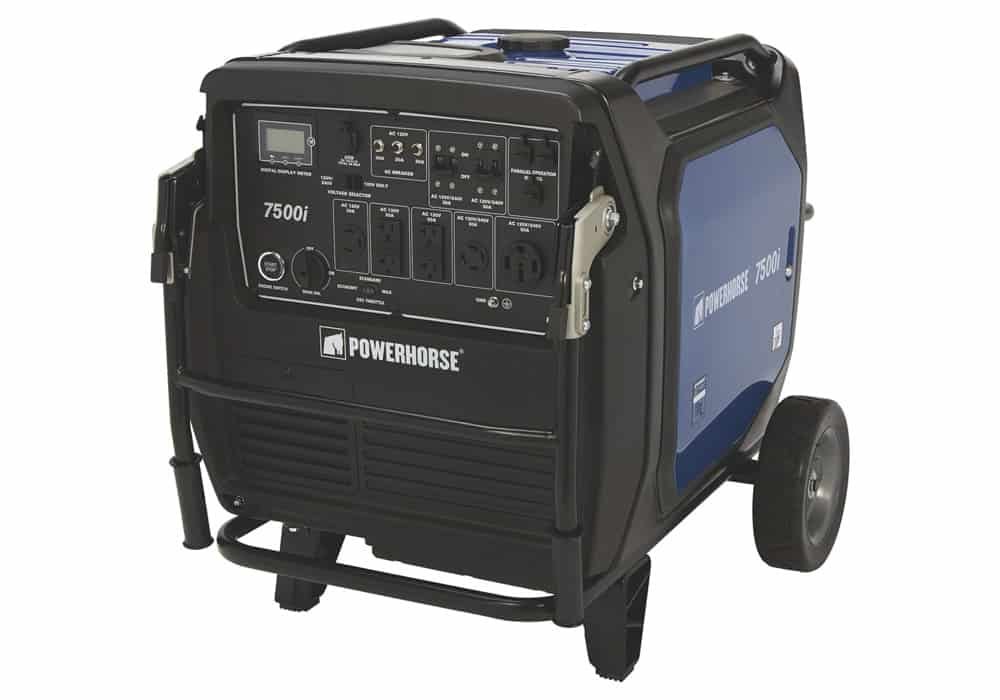 Powerhorse 7500i
Best Generator for Food Truck – The All-Rounder
Starting Watts:
7,500w |
Running Watts:
6,500w
Max Run Time:
16 hours
(25%)
|
Noise Level:
55 dB
Fuel Type:
Gasoline |
Gasoline Capacity:
6.6 gal.
Item Weight:
287.0 lbs |
Inverter System:
Yes
Great Power
Electric start
Diagnostic control panel
Super quiet for it's size
Clean power option
CARB compliant
Heavy/ hard to maneuver
Doesn't have remote start
On the expensive end
This is a generator that feels made for food truck operation. It has the high power output you need, without the ridiculously loud motor. If you need to run several appliances and run a pickup window at the same time, this is definitely a viable solution for you.
It can boast about high power for sure. With 7500W for start and 6500W for run, you can power virtually anything without fear of surges or outages. It has a 420 cc engine to pump out the voltage without compromise to performance. Considering the bang for your buck, the quiet motor is just the extra cherry on top. It can run as low as 55dB on a reduced load, and even when you run heavy duty the sound won't blow your ears. This is a must when you're working close proximity all day.
Run times are decent, especially for the power output. It can run up to 16 hours if you keep your load to a minimum (about 25%), but even running full-tilt you can get a half day's worth of work before you need to refuel. For a more specific breakdown, you can expect about 0.41 GPH at 25%. Not amazing, but pretty average. It also has engine idle control to help reduce your fuel consumption depending on usage at any given time.
There is a typical pull-start that we are used to seeing on generators, but the addition of an electric start (with included battery) is a big plus. Little things like this just make the day run so much smoother. A diagnostic control panel is one of the big convenience adders as well, being able to see fuel level, remaining run time, and more from the digital display at a glance.
Circuit protection should always be a must for load bearing generators like this one, and you'll be happy to know that Powerhouse kept this in mind. There is an auto-shutdown function so you don't run the risk of hurting the generator or your appliances in the event of an accidental overload. It also produces a clean sine wave, so you can use it to power or charge sensitive electronics. This can come in handy if you need to plug in your phone or a GPS.
Now, this is a big boy. It weighs a whopping 287 pounds. So, even after attaching a wheel kit, you are limited in terms of mobility. This may not be a huge deal breaker if you plan to mount and ground your generator inside your truck; but, if you need something that can travel, this can also be a deal breaker.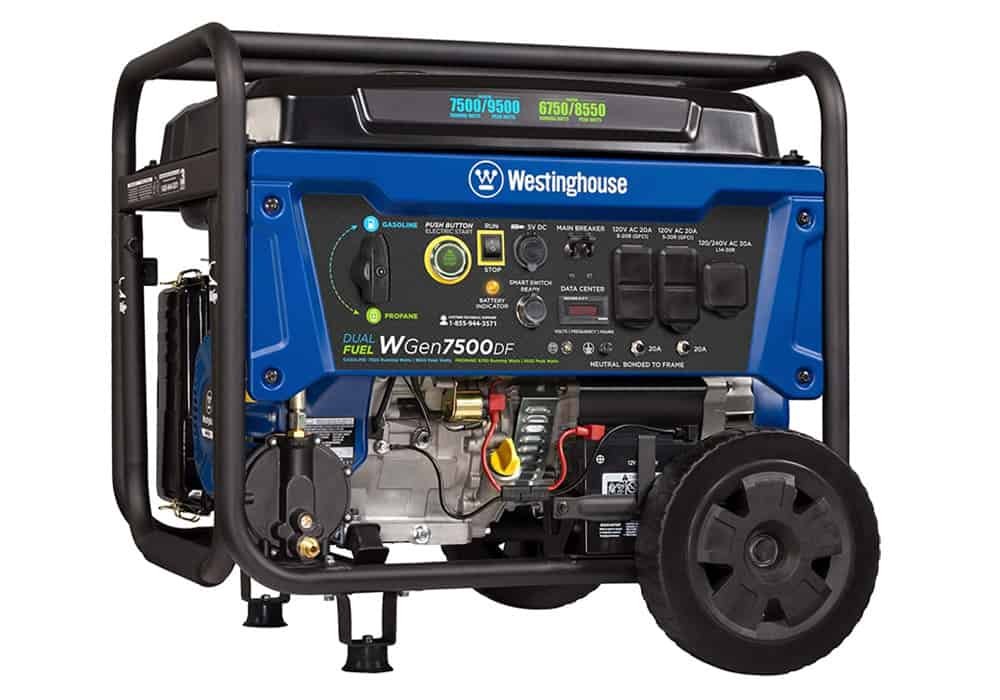 Westinghouse WGen7500DF
Best Generator for Food Truck – Value for Money
Starting Watts:
9,500w |
Running Watts:
7,500w
Max Run Time:
16 hours
(25%)
|
Noise Level:
74 dB
Fuel Type:
Gasoline & Propane (LPG) |
Inverter System:
No
Item Weight:
194.0 lbs |
Gasoline Capacity:
6.6 gal.
High power
Dual fuel (gas or propane)
Remote start
Great run time for it's size
GFCI outlets
Smart switch capable
CARB and EPA compliant
Low price for it's power output
Very loud for some food truck owners
No circuit overload protection
For you food truck operators that really need a lot of power output, look no further. The Westinghouse Wgen7500DF is one of the best when it comes to pumping out high wattage for those large loads.
Let's start with the big sell: the engine. It's a 4 stroke, 420 cc that is ready to take on your biggest jobs. Large appliances and multiple device use isn't a problem here, it has a start of 9550W and a run of 7500W. Power on with the easy electronic push-button start, or do it from the driver's seat with the compatible remote key fob. It's ready to use on demand, at the click of a button. It can't get much better than that.
One of the coolest things about this generator is that you aren't strictly limited to gas; you can fuel with propane as well. Keep in mind that propane will give you a slightly lower start and run wattage, about 8550W and 6750W, respectively. Westinghouse is also super proud of their "On the fly!" fuel change, and I've got to be honest, it's pretty cool. If you need to refuel during your work day, you can switch from a gas to propane fuel supply — without needing to power down. Keep everything running, so your business doesn't have to take a break.
Even with the convenience of fuel switching, the fuel economy on this generator is pretty darn good. At 50% load, you can still expect to get about 11 hours worth of work per tank (and that's 6.6 gallons folks). Even if you run at closer to 75% to 100%, that's still a good 5 to 8 hours of consistent power. This is a must for those busy days when you have a hungry line of customers waiting.
When you increase power output there will also be an increase in motor noise. This is to be expected. If your food truck relies on multiple high wattage electronics to run smoothly, it is almost unavoidable to have a bit of noise pollution. This machine isn't deafening by any means, but you will probably have to raise your voice a bit when speaking to customers.
And finally, given how cool the "On the fly!" fuel change is, there is a small design flaw worth noting: there isn't a designated auto shutdown for circuit overload. This could potentially be problematic if you're running high on your wattage load, as switching from gas to propane will actually decrease the amount of wattage the generator can output.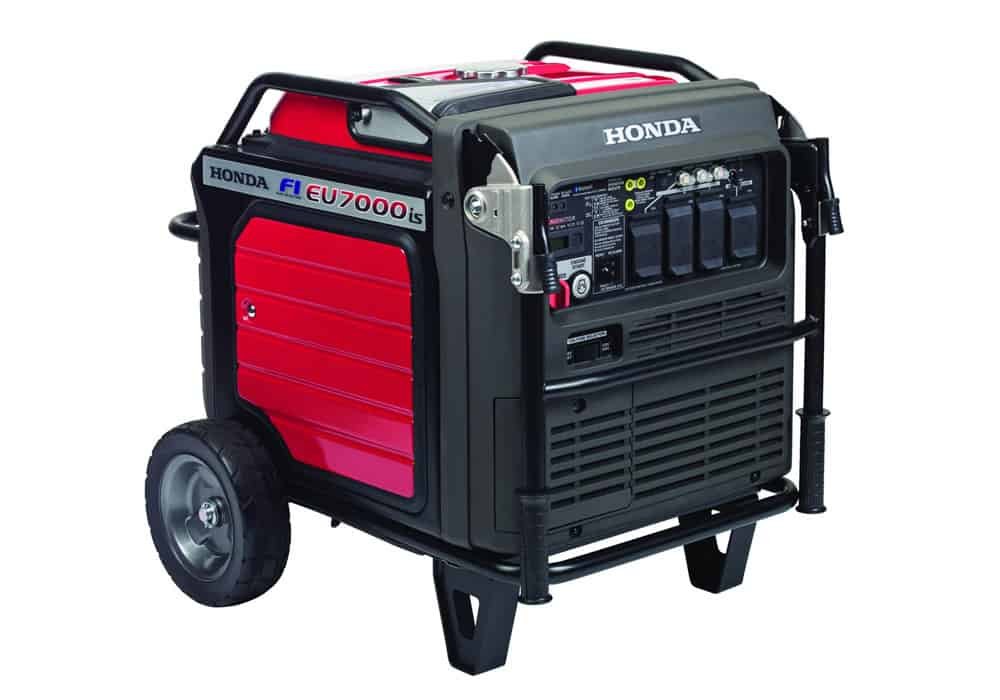 Honda EU7000iS
Best Generator for Food Truck – Quiet, Powerful & Reliable
Starting Watts:
7,000w |
Running Watts:
5,500w
Max Run Time:
16 hours
(25%)
|
Noise Level:
52 dB
Fuel Type:
Gasoline |
Gasoline Capacity:
5.1 gal.
Item Weight:
263.2 lbs |
Inverter System: Yes
$4,599.00

ULTRA QUIET. The quietest generator in it's class
High start and run wattage
Push button start
Bluetooth connection
Mobile app control and monitor
Very fuel efficient
Parallel support
Has GFCI outlets
Clean power inverter system
EPA approved and CARB compliant
CO Minder technology
3-year warranty from Honda
Expensive
On the heavy side
The generator gods have gifted us a truly wonderful piece of equipment here. The Honda EU7000iS is top of the line in so many ways! Not only does it have an insane amount of power, the motor is one of the quietest you'll find. This combination is rare; so, it might be time for you to take advantage!
Another great feature is the CO-Minder that monitors CO2 levels in the air. If the emissions from your generator start to become hazardous it will shut off automatically. This is a great safety precaution to have when operating a generator within a confined space — like your food truck. It's not always an option to have it outside and the peace of mind this brings is worth its weight in gold. Circuit overload protection is also built-in, so you don't risk a surge or damage to the engine if you accidentally run more voltage than it can handle.
The electronic fuel injection makes your gas last longer, so you get more use out of every tank. This cuts down the cost of having to refill, and on the amount of time during the day you have to power down to refuel. Being able to stay open longer is always going to be an easy way to make more money; you don't want to lose customers during a refueling break. It can get up to 16 hours of run time on 5 gallons of fuel.
I can't emphasize the optimized noise level of this generator enough. It runs at 52 to 58 dB, quieter than a normal conversation between friends. This means you will always be able to hear your customers, your staff, and your own thoughts! All of this while getting a great amount of power — 7000w of startup and 5500w of run. That's a lot of appliances that can be plugged in at once, guys. Output like that usually comes at the expense of a loud rumble, not a quiet purr.
The only real drawback of this machine is the price. The sticker price will put many people off, but you really are getting a superior choice for your food truck. Having a quieter generator is a "must" for most food truck operators, and that's hard to find at this power level. We consider this inverter generator, the gold standard in this category.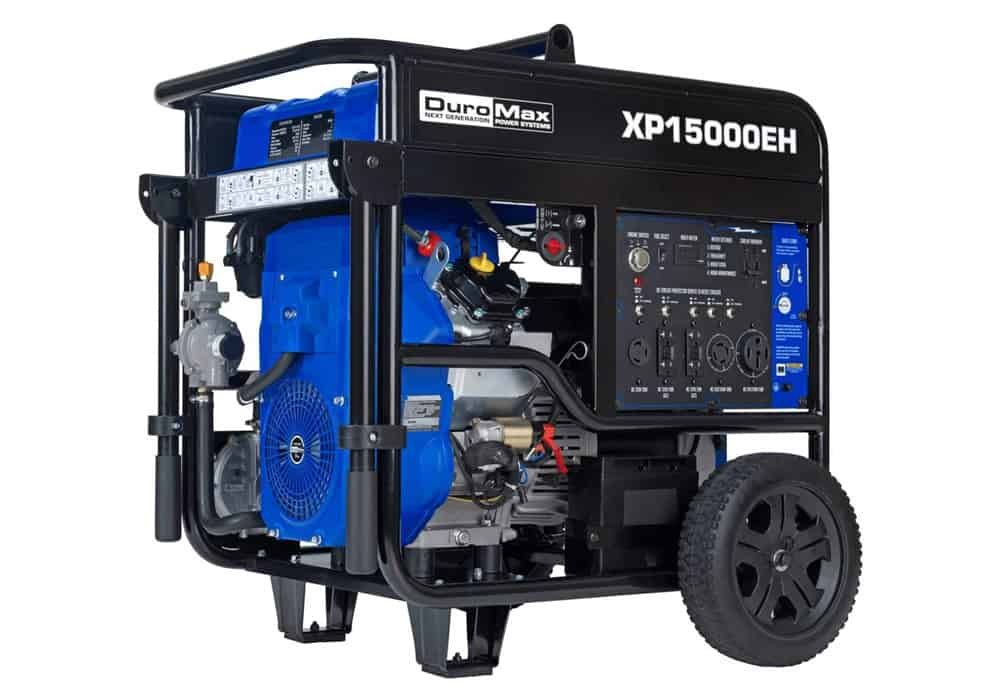 DuroMax XP15000EH
Best Generator for Food Truck – Power Beast & Big Tank
Starting Watts:
15,000w |
Running Watts:
12,000w
Max Run Time:
9.03 hours
(25%)
|
Noise Level:
84 dB
Fuel Type:
Gasoline & Propane (LPG) |
Inverter System:
No
Item Weight:
380 lbs |
Gasoline Capacity:
10.8 gal.
ULTRA POWERFUL
Dual fuel (gas / propane)
Can be used for home back-up
GCFI outlets
CARB and EPA compliant
Massive gas tank capacity
Electric start
3-year warranty
Very loud for some food truck owners
Super heavy
Doesn't have recoil back-up
Who's got the power? DuroMax has the power! And I mean POWER. Oh man, this baby can run just about anything under the sun. So, if your food truck is running appliances, electronics, light-up décor, pretty much anything — you will be covered by the DuroMax XP15000EH. Seriously, this is one of the most high power output generators on the market right now.
For all of you gear-heads (and those who are just interested in what craziness is under the hood here), let's get into the nitty-gritty of the engine. This is DuroMax's own 23HP, 713 cc, V-Twin engine and she is a beauty. The peak starting watts of 15,000W and 12,000W running watts are just insane. This monster can power a small home, so I think your food truck will be in safe hands.
If you like a bit of versatility, you'll be pleased to note that the XP15000EH has a dual fuel option. You can decide whether to run on gas or propane, or switch it up depending on the day and the fuel price! There's a small loss in wattage when using propane (14,250W start and 11,400 run) but it really is pretty minimal. The fuel tank is also massive at 10.3 gallons, so there's plenty of room for whatever you choose.
The run time is decent, nothing to be overly excited or upset about. You can expect about 9 hours (gas or propane) if you run a ½ load during your day and it gets a bit shorter past that — maybe 4 to 6 hours per tank. But, if you aren't going to take advantage of more than half of the load, it's probably not worth buying this generator in the first place. You would be better off sticking to a smaller model.
Now, the drawbacks of owning this monster: it is loud and it is heavy. However, those things kind of come with the territory for a generator like this. Noise level will sit around 84 dB, so check with your city and venues to make sure this is not too loud for any ordinances they may have in place. This generator also isn't one you're going to want to move around, even on wheels — it's 380 pounds. Mount it in place and call it a day.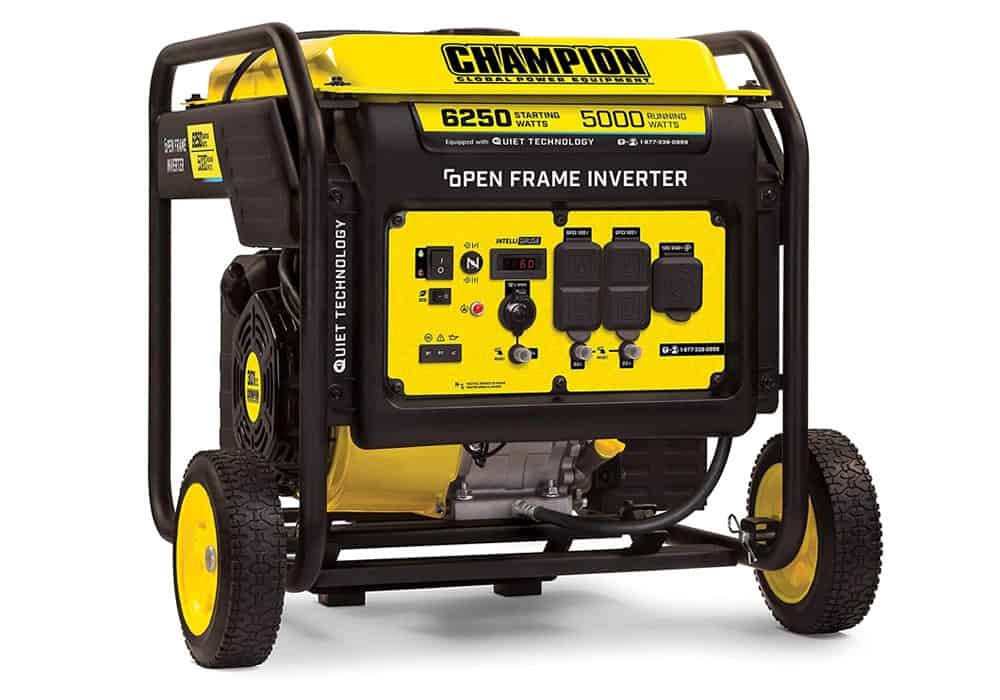 Champion 100519
Best Generator for Food Truck – Lightweight Pick
Starting Watts:
6,250w |
Running Watts:
5,000w
Max Run Time:
12.5 hours
(25%)
|
Noise Level:
69 dB
Fuel Type:
Gasoline |
Gasoline Capacity:
4.0 gal.
Item Weight:
121.0 lbs |
Inverter System:
Yes
Lightweight for it's class
Great lower-end price
Inverter system
CARB and EPA compliant
GFCI outlets
Low maintenance
Considered loud for some foot truck operators
Lower run time
Not great fuel efficiency
Doesn't have an electric start
Champion stepped up their game with their 100519 model. They have reduced the noise and made the size a bit more compact and easy to maneuver. No heavy duty generator is going to be ultra light, but this one comes as close as it can get for the power you need. It only weighs about 121 lbs, and can be customized with a wheel kit for better mobility.
The Quiet Technology digital inverter components have done a good job of muffling the mechanical whirring while it runs. This hits the mark in falling under 70 dB in volume, but barely. It runs at about 68 to 69 dB, so it won't exactly fade into the background; but it also isn't a deal breaker. Business can run as usual and your customers won't be annoyed by the distraction.
There is definitely power under the hood here. It has 6250W starting and 5000W running, which means you can power a wide variety of electronics and appliances at any given time. The high start wattage is great if you plan on running refrigerators or AC in your truck.
Maintenance on this machine is going to be pretty minimal. The gas tank is easily accessible which isn't a surprise, but the biggest hassle with a lot of generators is the oil change process. The Champion 100519 is fit with a Quick Drain Oil Tube, so you can get the job done quickly and without the mess.
The 4000W of clean sine wave power output (less than 3 THD) does allow you to also hook up more sensitive equipment for charge in a pinch, something you don't always see on high power generators. This means you can plug in equipment like a GPS or laptop, without risk of damage to their charge or circuit.
The run time can last up to 13 hours, but that is only if you are running about 25% of the load. Realistically, you can expect 4 to 8 on a tank; this isn't necessarily bad for a normal work day, but it isn't great either. Champion boasts about the Economy Mode they developed for this model and it might be great for emergency generator use. But for a food truck, you have several appliances that need to run consistently; Economy Mode isn't really an option.
Lastly, in a digital age, we like things to be simple. With so many electronic push-start generators on the market, it's kind of an inconvenience to buy one that is still stuck on recoil. It's not a huge deal, but all things being equal, it is something to note.
Conclusion
Reliability is the name of the game when you're buying a generator. Finding out your wattage requirements, mapping out the space you need to mount it, and choosing the best overall machine to fit your needs is a lot of work — but you've got this.
Remember your big goals, and the freedom that perfect generator will give your business. Consider how much power you need, how long your work day is, and what your noise level threshold is. Research is key and, with a little help from your friends at poweradvice.org, it doesn't have to be so complicated!
Now get out there and make some amazing culinary delights!